Delve into the awe-inspiring memoir of Dolores T. Horta as she shares her profound journey towards discovering God's love and fulfilling His promises. Through unwavering faith and devotion, Horta's ministry has touched countless lives, inspiring readers to find resilience, hope, and personal growth in the face of life's challenges. This powerful testament to the transformative power of faith serves as a beacon of hope, guiding readers to victory in Jesus.
Leyton, Utah – 
WEBWIRE
 – Thursday, July 27, 2023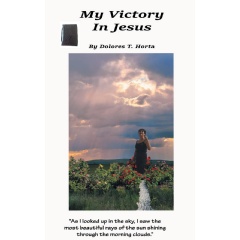 In the depths of unwavering faith lies the key to unlocking the transformative power of God's love, leading us to victory in Jesus.
Quipper Prints is delighted to announce the release of "My Victory in Jesus," an awe-inspiring memoir by the remarkable author, Dolores T. Horta. This book serves as a beacon of hope, revealing the power of faith, the grace of God, and the strength to overcome life's most challenging circumstances.
In "My Victory in Jesus," Dolores T. Horta bares her soul and shares a profoundly personal account of her journey towards discovering God in a profound and tangible way. Drawing inspiration from Job 42:5 and Romans 8:28-29, she narrates how her faith transformed her life, bringing her to a deep understanding of God's unfailing love and the fulfillment of His promises.
As a devoted Christian, Dolores Horta has become a source of inspiration for countless individuals. Her unwavering dedication to God and her desire to see others lead joyous lives through faith have touched the hearts of many. The book delves into her experiences leading Bible studies, preaching at churches, speaking on TV shows, and ministering in different parts of the world, including Mexico and the Philippines.
"Dolores spent much time in intercessory prayer alone and with groups. It has been a pleasure to pray with her through the years and see God opening doors for her to speak and see Him move mightily in situations," said a spokesperson from Quipper Prints.
"My Victory in Jesus" is a testament to the transformative power of God's love and the strength that comes from a profound connection with Him. It serves as a guide for readers, showing them how faith can lead to personal growth, resilience, and unwavering hope in the face of challenges.
The book is available now on Barnes & Noble: https://www.barnesandnoble.com/w/my-victory-in-jesus-dolores-t-horta/1140866976
Dolores T. Horta's "My Victory in Jesus" is a story of triumph that will resonate with readers of all walks of life. It is a powerful reminder that with faith, dedication, and God's grace, we can overcome any circumstance and find victory in Jesus.
About the Author:
Dolores T. Horta is a devout Christian, inspiring preacher, and dedicated servant of God. She has touched countless lives through her ministry, spreading the message of hope and faith across the United States, Mexico, and the Philippines. With "My Victory in Jesus," she aims to share her personal journey of faith and inspire readers to deepen their relationship with God.
About Quipper Prints:
Quipper Prints is a reputable publishing company committed to promoting inspiring and meaningful literature. They are dedicated to supporting authors who share stories of personal growth, faith, and transformation that can impact readers in profound ways. For more information about Quipper Prints and their publications, www.quipperprints.com
About the Author
Posts in the Past